Level Up Your Digital Marketing: Here's Why Podcast Advertising is Worth It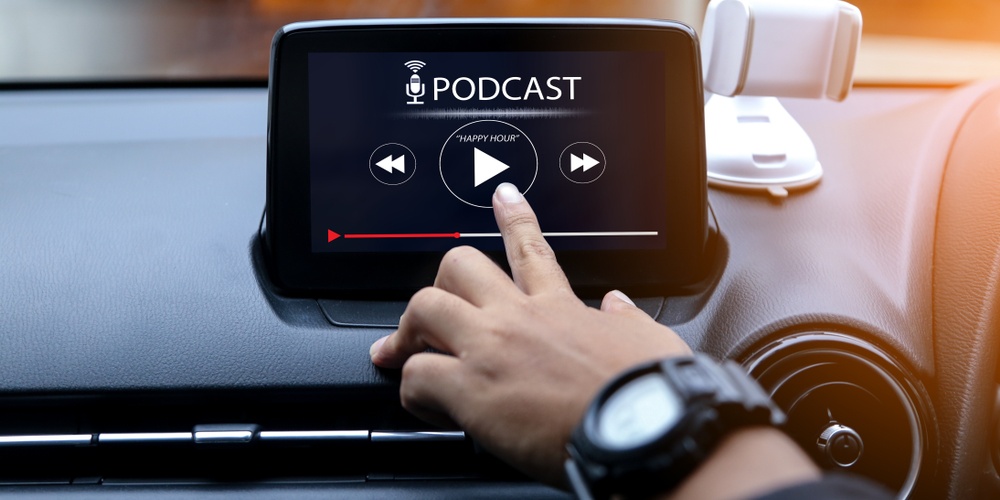 If you want your brand to evolve with a fast-growing marketing channel, it's time to consider advertising on podcasts. Podcasts are a rapidly growing trend with millions of listeners. Research by Insider Intelligence reports that the number of podcast listeners in the U.S. was expected to reach more than 117.8 million by the end of 2021 (it actually reached 120 million!), with more than 60% of listeners between 18 and 34 tuning in monthly.
There's no better time than now to upgrade your strategy to include podcast advertising. If you want to experience growth, boost brand awareness, and reach a more expansive audience, podcast advertising is beneficial for all of these and more. Here's everything you need to know about advertising on podcasts.
Podcast Ads will Help You Stand Out
Marketing is always changing and we always want to stand out, stay ahead of the curve, and be ahead of our competitors. One of the best ways to do this is to jump on new and exciting advertising opportunities when they are hot and before our competitors do. It's safe to say that podcast advertising is hot! The podcast trend is relatively new, so advertising on shows that represent your ideal audience can give you a big boost when it comes to brand recognition.
Podcasts are accessible to all, have very captive listeners, and hosts that are very willing to promote brands. Having your brand talked about to new audiences will help you get ahead of the curve.
Podcasts Are Rapidly Growing
Podcasts are growing strong — if not better by the day. The numbers show that podcasts are expanding in terms of people's awareness about them, listeners who tune in, and the amount of time people are listening.
According to Statista, the following areas of podcasting have grown recently:
Awareness

— 78% of Americans are aware of podcasting.

Usage

— more than half (57%) of Americans have listened to an audio podcast.

Consumption frequency

— at least 41% of the U.S. population has listened to a podcast in the last month, with 11% reporting that they tune in a few times a week.
Additional research suggests even more growth for podcasting's future, with monthly podcast listeners reaching as much as 164 million or more as soon as 2024. This number is expected to only get better by the year, crushing expectations as it has so far.
Reach a Larger Audience with Podcast Ads
You'll reach more people with podcast advertising because audio streaming is available anywhere. Most podcast shows that sell advertising can reach an audience of 5,000 to 100,000 listeners per episode (some have a reach of over one million!). What's more, these podcast listeners are usually very engaged because they're tuning into segments that appeal to their interests specifically.
Podcasting goes beyond generic and can pinpoint niche audiences. Just think about it — you can find a podcast on nearly any subject that comes to mind. This will allow you to reach a very specific audience, which in turn, helps you quit wasting ad dollars.
Streaming Audio and Podcast Ads Can Target Specific Audiences
Younger generations lead changes and trends. If your audience is mainly Millennials or Gen Z, you have a great chance of reaching them on streaming audio/podcasts. Statista says that Millennials are the generation with the highest share of podcast listeners in the U.S., with 43% of Gen Z and 48% of Millennials consuming podcast content weekly or more.
The reason for this is that they can tune in for specific topics. Podcasts are niche and are super accessible because they can be listened to anywhere, anytime.
Podcast Ads are Flexible
Podcasts can be accessed whenever, without any fixed schedule. This will allow your ad to be exposed to the entire audience without fear of some missing out due to tuning in too late or temporary distractions.
What's more, listeners can pause when they need to, they can playback any episode, or even listen to older episodes whenever they'd like. Your brand's ads will be on episodes indefinitely, ready to be heard by new people all of the time. Podcast ads are less strict with time and length. According to research, podcasts not only deliver fewer sponsors (increasing your memorability) but less strict commercial lengths (don't stick to the typical 30 to 60-second time limits).
Podcast Ads are Budget-Friendly
Podcasting ads are effective and affordable, which can be particularly good for smaller businesses because you get more bang for your buck. You could focus on ads in a few podcasts with low ad costs but high engagement rates. According to HubSpot, the average podcast ad slot costs between $10 to $50, with additional premium fees for shows with high listenership.
Additional research narrows podcast ad prices even more, reporting that the average range is about $18 for a 10-second ad to $25 for a 60-second ad spot.
Upgrade Your Marketing Efforts with a Superior Podcast Ad Strategy
Keep your podcasts ads on budget while reaching the majority of your target market by creating podcast advertising campaigns with the help of CoxNext. This way, you can tap into our experience and expertise for best practices, the most popular podcasts among your audience, and preferred ad spots!