Insider Tips for Seeing Results with Video Advertising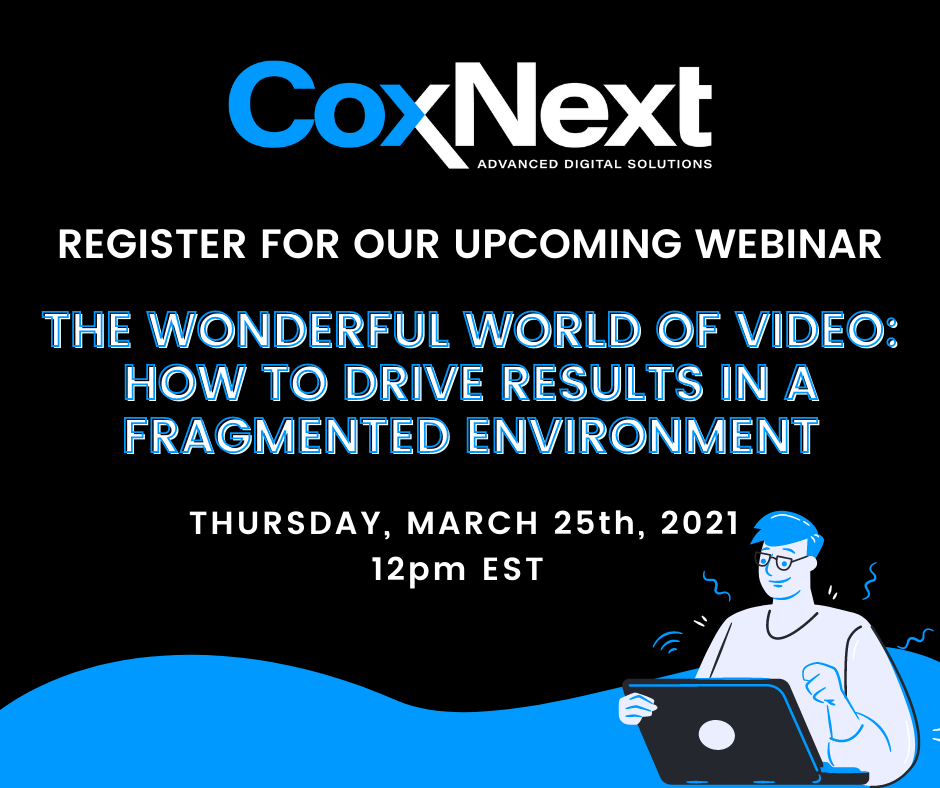 Have you been wondering if video advertising is even worth it since everyone seems to be doing it? Well, the answer is yes. More people are consuming video content than ever before! Just because everyone is creating video doesn't mean you shouldn't be.
If anything, you should be striving to get your brand in front of your target audience in video format more than ever. The wonderful world of video is a fragmented environment. People often get intimidated or overwhelmed by the thought of trying to get their message right and out at the perfect time. With CoxNext's help, you don't have to worry about that anymore.
On March 25th, at 12 PM EST, we are hosting a live webinar on video advertising. The Wonderful World of Video: How to Drive Results in a Fragmented Environment will cover everything from utilizing it for lead generation to best practices for individual platforms.
At CoxNext, we have the knowledge and experience in the world of video to confidently give you insight into how to drive results for your business. If you're interested in learning insider tips on being successful with your video advertising strategy, join us for our upcoming webinar and live Q&A.
Gone are the days of creating a video ad, publishing it, and hoping for the best! Learn more about CoxNextv and our capabilities on March 25th at noon. If you aren't able to make it, no worries -- sign up anyways and we will send you the recording after. We hope to see you there!