Why You Should Add a Podcast to Your Marketing Mix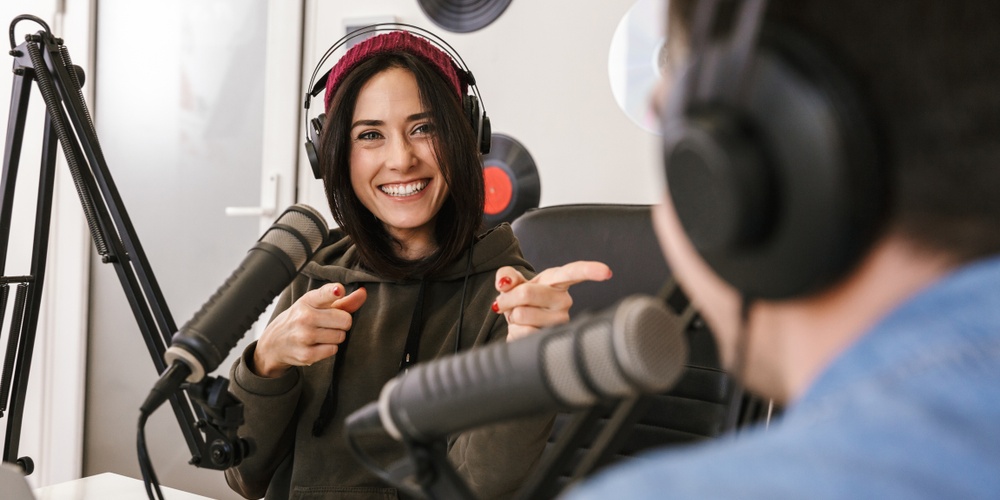 Do you want to gain access to a wide-ranging, engaged audience at minimal cost? If so, then you should seriously consider adding a podcast to your marketing mix.
Podcasts have become virtually ubiquitous in the last several years, with one survey estimating over 2 million podcasts and over 48 million episodes available today. Over half of the US population (155 million people) listen to podcasts - up from 51% in 2019. This figure includes individuals of all ages and backgrounds, from Gen Z to Baby Boomers.
While listeners may tune in to podcasts for a variety of reasons (to get educated on a topic, to search for inspiration, or simply to be entertained), one thing is certain: Companies that incorporate podcasting into their overall strategy are likely to see a boosted ROI from their efforts. Here are just a few reasons why you should leverage podcasting to grow your brand.
Podcasts are Cost-Effective to Produce
Cost is always a major factor in any marketing decision. It's no different with podcasts. The good news is, it doesn't require a large upfront investment to produce a decent podcast. You could get started publishing episodes for less than $65 per month! Of course, it will cost more to develop a podcast with high production values; but this communications medium is still very affordable to use.
Become a Thought Leader in Your Industry
Publishing a regular podcast is a great way to demonstrate your subject-matter expertise within your industry. For instance, you can build your company's credibility by inviting established authorities onto your podcast and then having in-depth conversations with them around current topics of interest in your field.
Not only will your podcast help you to establish "domain authority" in terms of SEO (via backlinks) - it will also generate trust in your listeners. And when people trust a brand, they're much more likely to buy from it.
Stand Out from Competitors Who Aren't Producing Audio
Even though podcasts have become extremely popular in the last decade, not all businesses have jumped aboard the bandwagon. That means there's a huge opportunity for companies willing to invest in podcast production to stand out from their competition and tap into a demographic that may be virtually untouched by other brands.
Reach a Busy Audience with More Ease
The average person is so busy today, it's hard to capture (and then keep) their attention for very long. However, in the world of advertising, podcasting is often the exception to this rule. For instance, an Edison Research study found that most podcast listeners are "super listeners" - in other words, they consume almost two hours more audio per day than the average American and spend at least a quarter of that time listening to podcasts.
Unlike other advertising mediums, podcasts allow you to engage with listeners while they're doing other things, like jogging, driving to work, and so forth. Even while they're "busy," these listeners can remain connected to your brand.
Deep Dive into Topics Your Audience is Interested In
The beauty of a podcast is that you can talk about anything you want - and in business terms, anything your customer wants to listen to.
Of course, to determine which topics will resonate with your target audience, you need to know some basic information first, such as:
In short, you shouldn't develop a podcast just for the sake of doing it. Think deeply about your audience's interest for best results, and then create a podcast around those topics.
Podcasts Offer Cross-Promotional Opportunities
Finally, podcasts not only work well as a standalone marketing tactic; they are also a great way to bolster your entire marketing mix. For instance, you can integrate them into your overall strategy by discussing recent blog posts on your latest episode, promoting your social channels (like Facebook and Twitter), and asking for feedback from listeners via email or your company website. When you view podcasting as a key component in a larger marketing plan, then you'll no doubt enjoy greater success as consumers jump from one channel to another as part of their "buyer's journey."
Start Your Podcasting Journey Off Right
Of course, it can be challenging to build a podcast from scratch. If you're unsure where to start, you may want to partner with an experienced digital media agency. For example, our team at CoxNext can work with you to identify engaging topics for your target audience and then develop and promote a high-quality podcast that will engage your listeners and ultimately grow your brand.