5 Effective Marketing Strategies for Higher Education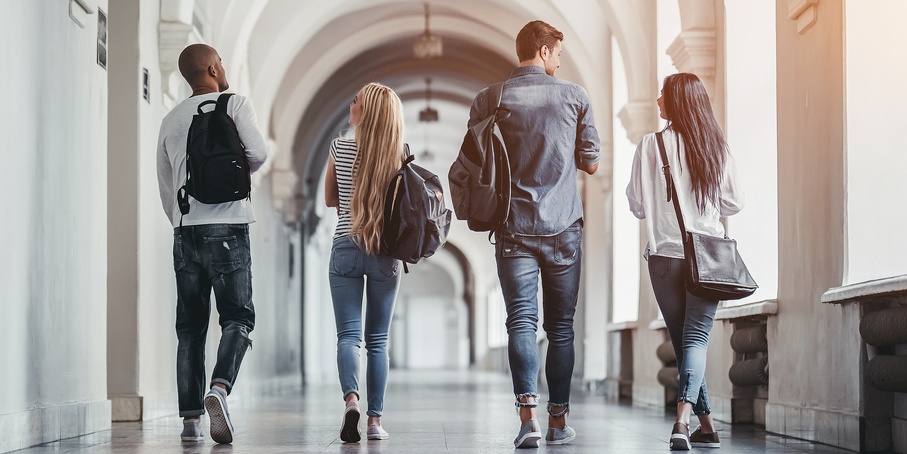 The higher education sector is a very competitive field, and the events of the last couple of years have only added to the pressure that institutions are under. For instance, a recent report found that enrollment has diminished by over 1 million students during the pandemic. Higher education institutions need to rely on robust marketing strategies to combat falling enrollment rates and student uncertainty.
What can universities do if they want to boost enrollment and maintain revenue streams? The following marketing strategies may prove to be exceptionally helpful.
1. Improve Messaging and Value Proposition
With the economic concerns associated with the pandemic still in play, many people are wondering if higher education is a good investment right now. Colleges and universities need to understand the anxieties that potential students (and their parents) are experiencing and adapt their messaging to address those pain points.
In your materials, make sure that you hone in on the value that your institution can provide. For example, a bachelor's or master's degree often results in increased marketability for job candidates, not to mention the opportunity to land lucrative positions. At the same time, sympathize with students who want to temporarily put their education on hold and promote any flexible offerings from your school that could be available to them (e.g., online learning, self-paced courses, and so forth).
Don't forget to lean on testimonials from successful alumni of your university. Research shows that almost 80% of consumers trust online reviews as much as personal recommendations from friends or family members. Sharing success stories from former students can be a powerful motivator for prospects who are currently "on the fence."
2. Highlight Campus Life on Social Media
Social media is becoming more and more integral to a successful marketing strategy for higher education institutions. A 2019 survey found that 86.1% of respondents believe that every college should have a social media presence, and in 2022, having social media is a no-brainer. The study indicates that prospective students (especially Gen Z and Millennial students) expect universities to engage with their audience via Facebook, Twitter, and other social media networks.
A university's social media presence can be engaging and tasteful at the same time. Harvard is an excellent case in point. The school boasts well over 8 million followers across Facebook, Twitter, and Instagram. It uses those platforms to discuss current world events, disseminate news about upcoming events sponsored by the university (either in-person or virtual), and highlight the diverse voices of incoming first-year students.
Other ways you can engage with your audience over social media include:
Live-streamed events

Q&A sessions

"A day in the life" segments
3. Add Chatbots for More Engagement
A
dding
chatbots
to y
our web
site
is
a grea
t way
t
o provi
de valu
e
for y
our con
sum
ers
, especially
t
hose
wh
o don't
want t
o
call
and jus
t ne
ed
a quick
answe
r
to
one
of the
i
r ques
tions.
Since 60% of Millennials (and no doubt, Gen Z-ers) have used a chatbot at some point in their lives, this is also a tool that caters to the younger demographics. Improving customer experience plays a large part in enhancing your institution's reach and engagement rates - and chatbots can help you to do exactly that.
4. Use Optimized Content to Boost Traffic
You also need to ensure that your online content has been
optimized
for SEO best practices
. High-quality content that addresses the specific needs of your target audience in a valuable way will take your brand reputation to the next level and ultimately contribute to higher enrollment rates.
Examples of content to optimize include blogs, videos, eBooks, one-sheets, white papers, comparison charts, testimonials, case studies, and so forth. As you audit your content, remember to focus on long-tailed keywords that align with the needs and interests of your target demographic. Building your keyword strategy around long-tailed phrases (which usually come with less competition than broad keywords) will help you win a higher share of the traffic you want.
5. Increase Communication with Email Marketing
Finally, never discount the power of email marketing to drive your engagement and enrollment rates higher.
Many
current and prospective students would prefer to receive their communications via e
mail rather than "snail mail," and i
nstitution
s should adjust their marketing approach to reflect this tren
d.
Of course, it's best to prioritize prospects that have already engaged with your university to some degree, as opposed to cold emailing a list of contacts. Perhaps these leads could include those who exchanged their contact info for a piece of gated content or information gatherers who asked a question of your staff via chat, email, or phone. Moreover, try to personalize each message you send for maximum effect.
How CoxNext Can Help
If you want to implement the five strategies discussed above in your university's overall marketing plan, but don't know where to start, then the experts at CoxNext can help. We can help you develop a unified approach to marketing for your institution across multiple channels (such as your website, social media platforms, email, and more). Partnering with us will take your digital marketing game to the next level and ultimately increase your enrollment rates. Reach out to our team to learn more.