How to Effectively Advertise to Cord Cutters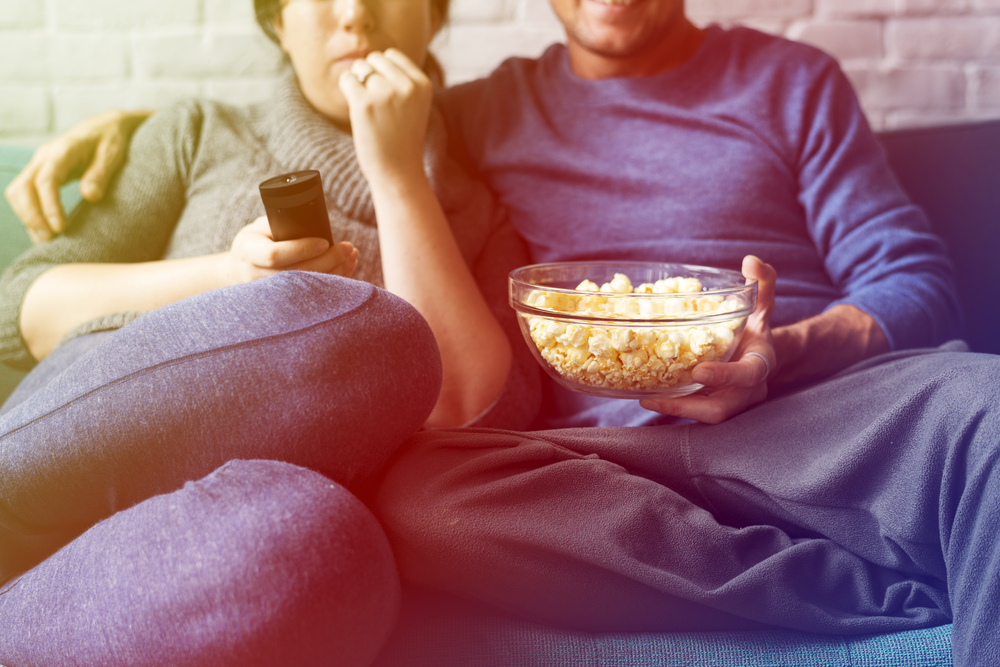 Cable and satellite services have been plummeting since 2007, and advertisers have needed to adapt. In 2007, the first streaming services became available. By 2008, AppleTV and Roku were released, and the descent of cable TV began. In 2022, one study showed that only 42% of households were cable subscribers. The average annual cost of cable has risen to $529.52 in 2022, so it's no wonder that most people have opted for less expensive options.
Cord cutters prefer to choose services including Hulu, Peacock, Amazon Prime Video, and others. Some viewers are also streaming via internet platforms like YouTube.
Aside from cord-cutters, other households contribute to the considerable dip in cable services. Before we dive into who's cutting what and how to reach them, let's discuss the segments of TV viewers to understand them better:
Cord-Cutters: People who have cut the cord on cable and discontinued its services, usually in exchange for streaming devices and cheaper or free platforms.
Cord-Trimmers: Cable watchers who trimmed their services and reduced their bundles to include fewer options to reduce their bills. Many low-cost streaming services provide entertainment, making cable TV more obsolete.
Cord-Nevers: People who have never had a cable or satellite subscription.
That said, there's a solution for reaching each segment of viewers: OTT video ads executed via an optimized OTT campaign. We have the OTT digital advertising breakdown on what you can do to advertise to cord-trimmers, cord-cutters, and cord-nevers effectively.
What are OTT Advertising and CTV Advertising?
Over-the-top advertising, also known as OTT advertising, is defined as ads reaching viewers via video content over the Internet. (This can literally be any video connected to the internet, regardless of device, platform, etc. Anything from watching This Is Us on a Smart TV to a news clip on your desktop computer. The ads before, in the middle, and after video content is considered OTT.)
On the other hand, connected-TV (CTV) advertising refers to the process of reaching viewers through streaming devices. This method can include anything from gaming consoles and Smart TVs to streaming sticks like Roku, Google Chromecast, and Amazon Fire.
When done correctly, OTT and CTV are effective ways to reach streamers.
How OTT Ads Work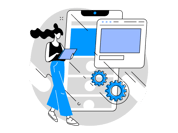 OTT TV ads are delivered in the video streaming content your ideal target audience is viewing. Your ads can better target your audience and reach the right people, with the right message, at the perfect time using insight derived from digital advertising tracking and measuring capabilities.
While many brands like to run a 20-30 second ad on traditional TV, Think With Google recommends 15 seconds because they're nearly 75% as effective as the typically 30-second spot at about half the cost. They can also be more narrowly targeted to the viewer, making getting your message out in 15 seconds or less much easier.
The research shows that OTT ads are expected to average a revenue per person of nearly $52.25 by 2025, with almost half (40%) of viewers pausing their content to search/buy what they saw in ads and a shocking 72% recalling the OTT ads they saw.
Is OTT a Good Solution?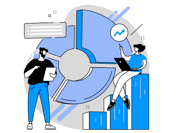 OTT delivers an incredible advertising ROI because it's where most of the population is. It allows you to target niche areas, so you're not wasting any ad spend on uninterested viewers. If you're not advertising on OTT, there's no time to waste. It's a rapidly growing industry that only gets more efficient with programmatic capabilities. The sooner you get started, the sooner you can maximize your potential in the industry and get ahead of your competition.
Reaching Cord Cutters and Beyond: OTT Advertising Benefits
Believe it or not, the most significant achievement of OTT advertising that keeps it a powerhouse in marketing is that it benefits both viewers and advertisers. This allows the marketing channel to efficiently get brand messages to the right people so advertisers can be heard and viewers can benefit from products/services that add value to their life.
Benefits for Viewers
For viewers, the top benefits of OTT advertising include:
Receiving more relevant brand content in ads
Interactive opportunities that allow them to pick and choose which ad relates more to them (i.e., a pet company enabling the viewer to click on which ad they want — an ad about cats or dogs)
Opting in for streaming ads means a lower subscription rate and, in some cases, no cost at all
Benefits for Advertisers
On the other hand, OTT benefits advertisers in the following ways:
Consumer Reach is Broad and Diverse
Analytics are Powerful, allowing Advertisers to Efficiently A/B Test and Optimize
Data is more Accurate
Call-to-Actions (CTAs) are Clickable
OTT Advertising Cost is more Affordable than Traditional TV
Maximize Profitability when Your OTT Video Advertising Strategies are Combined with other Channels
Can Reach a Younger Audience
Retargeting Capabilities
How to Get Started with OTT
We've compiled a few steps and tips for getting started with OTT to get you profiting sooner.
Define Your Audience
Before you can adequately deliver ads, you must know who your audience is first. This means you need in-depth knowledge of their likes, dislikes, location, content preferences, language, income, motives, incentives, and anything else you can learn about them.
Defining your audience will not only allow you to pinpoint the right people to deliver your ads to but also give you the information to reach and appeal to them with your ad content effectively. More than half (51%) of Americans say that they are highly annoyed by irrelevant ads, and this figure is shockingly consistent throughout generations.
Create OTT Ads that Resonate with Your Audience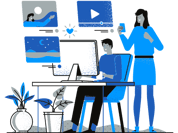 Reaching your target audience is important, but if your OTT video ads aren't relevant — it won't matter. Ad creation should be explicitly based on the audience you intend to attract and appeal to. It should speak their language (i.e., do they prefer humor? Extreme emotions like sadness or happiness? Or a solid do-good story?). It should also be diverse, inclusive, and suitable to their generation: baby boomers, Gen X, millennials, or Gen Z?
Connect with a Media Partner for OTT Campaigns
A media partner is helpful for OTT digital advertising campaigns in several ways. Media partners have teams of experts specializing in OTT. This means years of experience in what works and what doesn't, the best ways to use the data you obtain, and how you can take what you get from OTT analytics and implement it in your OTT campaign strategy. Even better, the right digital media agency can also help with ad creation that works with OTT, audience-specific targeting, and integrating your OTT with other channels.
Working With CoxNext
While OTT has been a staple for viewers and advertisers for a few years, there are still a lot of new areas to be explored. OTT is constantly evolving and improving as technology advances at an incredible pace.
Working with a trusted media partner like CoxNext ensures you're always up-to-date on the latest in OTT, its best practice, and utilizing it to its maximum potential. Moreover, CoxNext is a full-service media partner. We can also help you integrate your OTT with other powerful marketing channels like social media, email, paid media, native, and more.